Our Organization
Our Organization -
Electronica Hitech Machine Tools Pvt Ltd, is a group company of SRP Electronica Group which was originally established as partnership firm Electronica Sales & Services in 1978. The name of the firm was changed to Electronica in the year 1992 and in the year 2011the firm was converted into Pvt Ltd company under part IX of company act and its name changed to Electronica HiTech Machine Tools Pvt Ltd.
Deals In -
Electronica HiTech Machine Tools Pvt Ltd was formed to focus on sourcing of imported Metal Cutting, MetalForming machines and providing solutions through range of our own manufactured products like CNCLathes, EDM and CNC Wire cut EDM machines
R & D -
A very competent and HiTech R &D team comprising of senior team members with cumulative collective experience in EDM /WEDM technology of more than 140 man years .
Manufacturing -
A State of Art manufacturing facility in Pune
Strength -
Strong team of more than 200 professionals handling design, manufacturing, marketing, sales & after sales service. Out of which more than 70 trained service & application engineers to take care of installation & commissioning , warranty and post warranty services.
Network -
We believe in being close to the customer and serve the customer through our 13 branch offices covering all major industry locations and through our Head Office at Pune.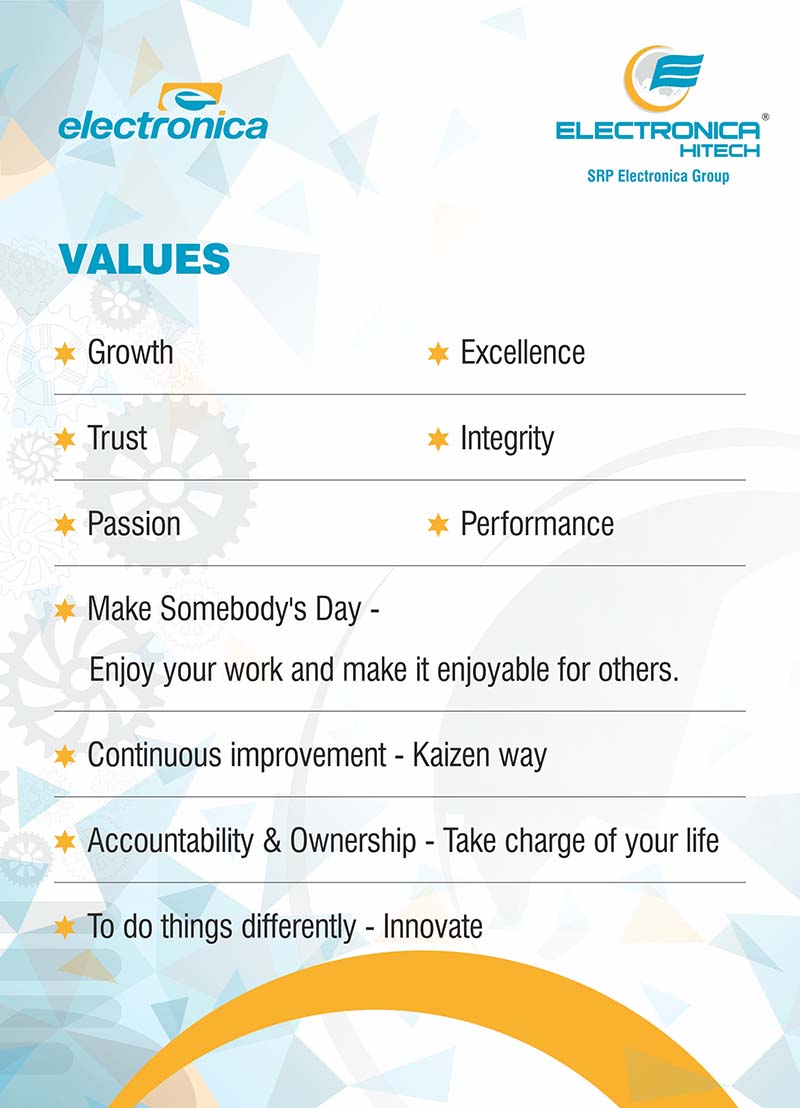 Our Vision
To be India's leading end to end machine tool solutions provider for engineering industry.

Our Mission
To achieve customer delight by providing timely, customized & global solutions.

To attract & retain the best talent from the industry and create hight performance team.

We will grow our business continuously to acquire the desired market share for our principals and our manufactured products.

To be trusted and committed growth partner to all our principals, customers, vendors, associates & employees.

To create value for all our stakeholders and contribute to the society.

Quality Policy
View our quality policy